SkyWatcher SkyMax 90mm on EQ1 Mount & Tripod.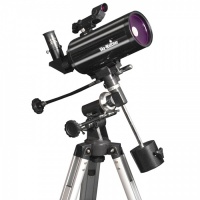 £ 199.00
To order
New Range
All on display in shop Great starter range
In stock to take away
Inspire 70mm AZ Refractor £ 159.00
80mm AZ Refractor £ 189.00
100mm AZ Refractor £ 259.00
With smart phone adapter and red torch
<![if !vml]>
<![endif]> Zenith Scholaris-400 LED Microscope
The Zenith Scholaris-400 LED Microscope is a wonderfully versatile and easy to use instrument, providing a perfect platform to start discovering the fascinating wonders of the micro-world!
Elegantly designed and robustly constructed, the Scholaris-400 makes an ideal beginners microscope. Featuring dual-LED illumination (transmitted and incident) for the examination of a wide variety of specimens. The sub stage transmitted illumination allows the examination of prepared microscope slides and transparent specimens at 40x, 100x & 400x magnifications, whilst the incident top illumination allows opaque objects (e.g. coins, whole insects etc.) to be observed at 40x & x100. Supplied with an accessory kit, including 5 x prepared slides, 5 x plain slides, cover slips, test tube, pipette, probe and tweezers.
Requires 3 x AA batteries. A perfect gift!
<![if !vml]>
<![endif]> List Price £ 69.99
Special Offer £ 50.00
Standard Specification:
Magnification range: x40, x100, x400
Separate Incident and Transmitted LED Illumination
Rotating 6-Hole Disc Diaphragm
Single-Speed Focusing Control Knobs
Locked-on Stage Clips. Dust Cover
Overall Dimensions 160x118x300 mm
Supplied with Gift Box
Celestron 4SE XLT
List Price £ 545.00
Our Price £ 489.00
Save £ 55.00 From stock